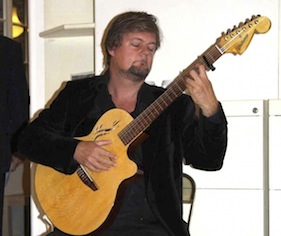 Bouke Feleus (1970) studied piano with Herman Uhlhorn and Alwin Bär, musical composition, orchestration and theory with Henk Alkema and orchestral conducting as a secondary subject with Melvin Margolis at the Utrecht Conservatoire (Holland).


His Symphony has been recorded in Kiev, Ukraine by the Kiev Modern Symphony Orchestra led by Vladimir Sheiko and has been released on Presenza as well as on British record label ASC. It has been broadcast many times on Dutch national radio. The 'Tres Canciones del Olvido' have been performed several times by French baritone Jerome Angot and the Northern Netherlands Orchestra. A charming Concerto for Piano and Strings was performed by the composer and an ensemble from Utrecht Conservatoire.

Several Dutch Ensembles have been performing chamber pieces in well known public venues in Holland. A 70 minute oratorio taking excerpts from the biblical 'Song of Songs' as a libretto (English) has been scored for baritone, alto/mezzo, double choirs, organ, piano and full symphonic orchestra as a commission, (awaiting first complete performance). 10 piece Codarts Brass Ensemble recorded "Fanfare" in 2011 (premiered at
FIM International Orchestra Conference 2011 in Muziekgebouw a/h IJ).

Bouke Feleus has been a guest lecturer and member of the graduation and exams committees for Composition at Utrecht Conservatoire and has been teaching ensemble conducting during the '05-'06 curriculum. He was engaged as a studio session musician, arranger and adviser during recordings of Dutch folklore/historical music material for the Royal Library in The Hague. Conducting activities include leading several local ensembles as well as Musical plays ('West Side Story' and 'Company' a.o. ) on a professional basis as well as occassionally leading ensembles performing his own or other composer's work.

Bouke has been engaged to score music and conduct the orchestra at Powersound Studios for a commercial one hour album of light symphonic music for a Dutch client. 2008 saw him conducting the 4th movement of his symphony in a concert in St. John, Smith's Square in Westminster, London with 'I Maestri' symphonic orchestra. In 2014-2015 a string quartet was recorded by four professional string players from Dutch symphonic orchestras.

For more information about other activities such as the
oil paintings
, Gypsy Band and
harp and guitar
performances please have a look at:

www.boukefeleus.nl